Top 5 US Cities to Take your Kids – According to My Own
You may not have to travel far to find your next family vacation! There are plenty of kid-friendly city vacations right here in the US of A. Here are a few of my personal favorites that are kid-tested, parent-approved.
5. Orlando
I know what you're thinking, but hear me out! There are plenty of reasons to love Orlando, but specifically, the Four Seasons Orlando. For my crew, it's the absolute BEST way to do Disney!
Few hotel brands do families and kids better than Four Seasons. Period. The Orlando property is so fun that your kids may not even care about going to Disney World! Adults appreciate the ONLY adults-only pool in Orlando, the fantastic spa, and the fabulous restaurants – all of which welcome your children with open arms! The little ones will love the 5-acre water park with slides, a splash pad, and a lazy river. But wait, there's more!
Book a Park View room to get a front-row seat to the fireworks at the Magic Kingdom without ever leaving your terrace. The character breakfast at Ravello is must-do, where the kiddos meet Goofy and his pals, direct from Disney. Planning to hit the parks? There is a dedicated Disney desk staffed with Disney Cast Members, who will help you with any of your Disney needs, and a luxe coach to drop you right at the park gate.
P.S. Never book a Four Seasons property without going through a preferred advisor, like me, so that you don't miss out on all the extra perks and VIP treatment only we can add to your booking!
4. Miami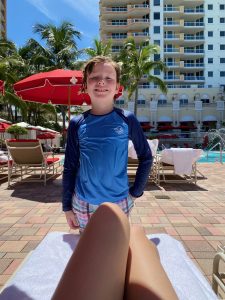 Miami was a surprise hit with my kids this summer. We can't wait to go back! We stayed at Acqualina Resort & Residences, and it blew us away! An entry-level room at Acqualina is quite roomy; however, families definitely need to start with a 1-bedroom suite with den, which is essentially an apartment. You'll have so much space, an oceanfront balcony, and a gorgeous gourmet kitchen. Beach access on a whole new level, 4 pools (one spa pool, one adult pool, and two family pools), and robust children's programming are standout features here!
We are huge fans of Acqualina, but there are so many excellent properties for families to enjoy in Miami! This is where your travel advisor works her magic and matches your family to the perfect property for YOU! And talk about things to do – if you can tear yourself away from the turquoise waters, you will not be bored exploring the city!
The Frost Museum of Science; Zoo Miami, the only subtropical zoo in the US; cruising along Ocean Drive in South Beach to check out the Art Deco architecture; shopping and people watching around Lincoln Road Mall; hitting up Jungle Island; wandering around Little Havana; a boat tour of the Everglades; and so much more, all make for an action-packed itinerary.
3. New Orleans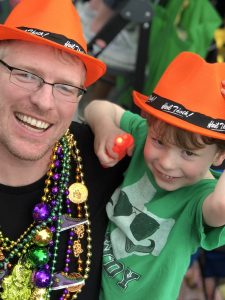 Full disclosure – we are a family that is entirely biased when it comes to New Orleans. It's only a 3-hour drive from us, so it's a natural choice for an easy long weekend away. I have a particularly soft spot for New Orleans after living there for several years before kids.
There are countless reasons New Orleans makes for a great family vacay. There is the Audubon Nature Institute, which includes the Audubon Zoo, Aquarium, and Insectarium. City Park was already a good place to burn off some energy, but it's even better now that the Louisiana Children's Museum is there. There's the French Quarter with street performers and spontaneous brass band marches and second lines. Beignets at Café du Monde, Saints Football, Pelicans Basketball, and festivals aplenty. But ask my kids the best time to go to NOLA, and they will tell you it's during Mardi Gras!
Folks from New Orleans will tell you that Mardi Gras is a family affair. The shenanigans that a lot of people envision when they think Mardi Gras can certainly be found in the French Quarter during Carnival, but when you're on the parade routes, you'll see huge multi-generational groups enjoying the festivities together. I have a whole list of tips for Mardi Gras first-timers, but that's for another post.
2.

 

Philadelphia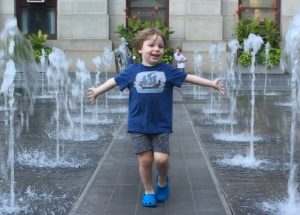 I can't say enough good things about Philadelphia. There aren't many places where you'll find great history, culture, architecture, and cuisine. My kids could spend an entire week exploring The Franklin Institute, which is hands down one of the best museums in the US. A winning choice for young and old, you could easily spend two full days here and want to come back for more.
If you're traveling with the younger set, one of the OG children's museums in the country lives here. The Please Touch Museum was founded in 1976 and continues to be a leader in experiential learning for kids. Sesame Place, a Sesame Street-themed amusement part, the Philadelphia Zoo (America's first!), and Smith Memorial Playground – with a giant wooden slide circa 1899 – are all worthy items to add to your itinerary.
You can't go to Philadelphia and not visit Independence Hall, Congress Hall, and the Liberty Bell Center. Don't miss the Betsy Ross House, or the Academy of Natural Sciences at Drexel University, America's oldest natural history museum; the African American Museum in Philadelphia; and the third-largest art museum in the country, the Philadelphia Museum of Art. Honestly, there are dozens of fabulous museums here. Check out www.visitphilly.com for a comprehensive list!
I'll wrap this up with 3 of my kids' absolute favorites. There are the Rocky Steps that must be run. Reading Terminal Market is one of America's largest and oldest public markets; a morning spent exploring here is a delight. Pro tip: My donut connoisseurs are enormous fans of Beiler's Donuts. After getting a full belly at Reading Terminal head over to Dilworth Park to let the littles burn some energy by running through the fountains, or ice skating in colder months!
1. Chicago
Navy Pier. The Shedd Aquarium. The Lincoln Park Zoo. The Field Museum. Art Institute of Chicago. One of our favorite museums of all-time, anywhere, is the Museum of Science and Industry. There is no shortage of family-friendly cultural attractions in Chicago!
Be sure to check the theater listings for any kid-friendly performances while you're in town. Afterward, treat yourself and the kids to a fun and delicious dinner at Carmine's Chicago. Love checking out great architecture? Chicago does not disappoint! Once you've taken in the gorgeous buildings from street-view, consider taking the Chicago Architecture Foundation Center River Cruise along the riverfront. Pro tip: My appreciation for architecture in Chicago really went to an entirely new level after reading Devil in the White City by Erik Larsen. I highly recommend!
Feeding kids in Chicago is easy – pasta, pizza, and hot dogs are staples, after all. We can't make a trip to the Windy City without having breakfast at Wildberry or cupcakes at Molly's. And there are numerous foodie festivals throughout the year.
Be sure to spend some time in Millennium Park. This is where you'll find Cloud Gate, better known as The Bean. My guys love Crown Fountain, also in Millennium Park, which is an interactive work of public art and video sculpture that usually ends up with someone getting their shoes wet (hint: spitting water). 
Finally, no visit to Chicago with your kids is complete without a visit to Maggie Daley Park. This is one of the best parks I've ever been to. The play garden is nothing short of spectacular. It's the kind of playground that is so cool that you might eventually have to carry your kids out in a football hold because they won't want to leave. You can rent a scooter or some roller skates and enjoy the skating ribbon in beautiful weather, or ice skates for winter weather! There is also mini-golf, and a massive climbing wall for the more adventurous folks.
No matter where you go, remember that traveling with your children is a gift to the world. You're helping to shape them into well-rounded, tolerant, and generous humans by exposing them to new people, places, and experiences. And that's something we can always use more of, and we can all feel good about!